White Papers - NGR Technosys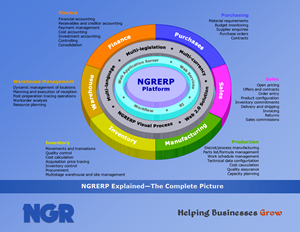 NGRERP Explained - The Complete Picture
NGRERP is not just a great product for next generation enterprise. It is, in fact, a generational shift in business software, delivering new levels of capability, unmatched agility, and a compelling and em-powering user experience. At the same time, NGRERP sets a new standard for simplicity. This paper does not pretend to capture every detail of the product, but instead highlights the key innovations that make NGRERP powerful, agile, and simple.
---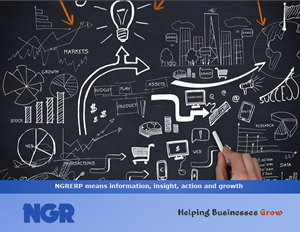 NGRERP means information, insight, action and growth
It's time you got a modern financial solution that is powerful enough to meet your needs today, but innovative and flexible enough to adapt as your business evolves and grow. Accessible on any device and deployed in the cloud - that solutions is NGRERP.
---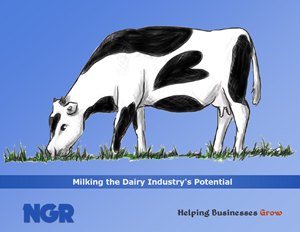 Milking the Dairy Industry's Potential
The dairy industry relies heavily on proper planning and forecasting. It goes a step further than most industries, however, as dairy companies must forecast not only production and sales, but also their supply both in volume and quality of the base product, milk. Cows cannot always be relied upon to produce high quantities of high-quality milk.
---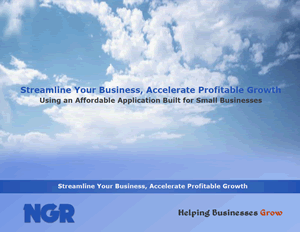 Streamline Your Business Accelerate Profitable Growth
Like many decision makers in small businesses, you want to focus on growing your business but instead find yourself dealing with a flood of daily operational details, ad hoc requests for information, and nonstop competitive moves. Meeting these challenges is difficult and time-consuming. When key pieces of information reside in different systems or locations, response times can lag and create customer dissatisfaction. And disjointed sales, accounting, and operational processes inevitably result in bottlenecks and reduced productivity. Multiple systems also mean additional work – such as duplicate data entries – which in turn causes errors and delays. Meanwhile, your competition is making it hard for you to find and keep customers.
---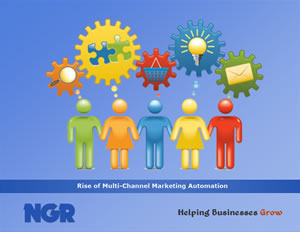 Rise of Multi-channel Marketing Automation
Marketing is most effective when a recipient is presented with the right message at the right time in the preferred medium. With marketers using an average of three channels per program today, effective marketing across multiple media can be a daunting and time consuming task. To be more effective, progressive organizations are adopting marketing automation technology to streamline processes and enable more advanced, timely, and relevant marketing programs.
---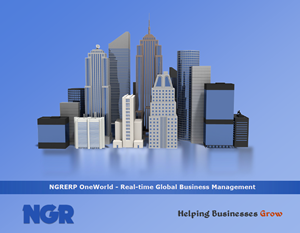 NGRERP OneWorld for Global Companies
NGRERP OneWorld is the first real-time on-demand business management solution that addresses the requirements of multi-entity and multi-national companies. NGRERP OneWorld is an optional module of NGRERP that enables the management of multi-national sales teams and selling partners, the financial consolidation required of companies with multiple charts of account, global marketing and customer support ecommerce, and ability for rolled-up multi-company reporting and business intelligence requirements in real-time.
---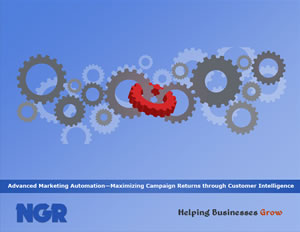 Advanced Marketing Automation
How can you consistently beat your profitability goals — and your competitors? On the surface, it's not that complicated. Just under-stand your customers better and faster than anyone else, and use that knowledge to target them more effectively than anyone else.
---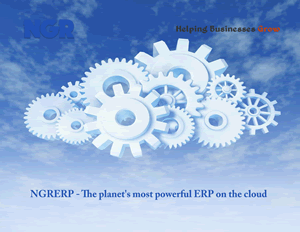 NGRERP - OnDemand ERP
Growing organisations often find it difficult to retain business efficiency, employee productivity, and responsiveness to customer needs. Businesses are hindered by lack of technology or by systems that either cannot scale up to a growing customer base or lack the functionality to support daily business operations.
---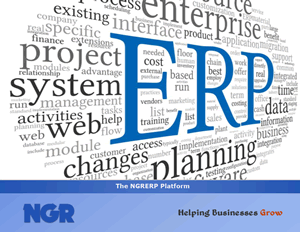 The NGRERP Platform
As we move out of the economic recession, markets are poised for growth yet again. As fast-growing companies achieve greater market penetration and gain more customers, they face the challenge and opportunity of efficiently growing their business. They must be able to effectively manage their sales teams and channels, and improve backoffice efficiency, while ensuring high levels of service for customers.
---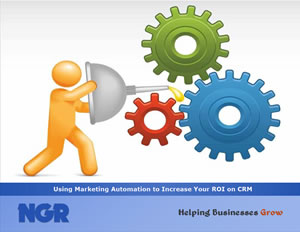 Using Marketing Automation to increase your ROI on CRM
The fusion of CRM and Marketing Automation allows you to increase the ROI of your sales and marketing organization, improve close rates, deliver more predictable revenue and make both teams more successful.
---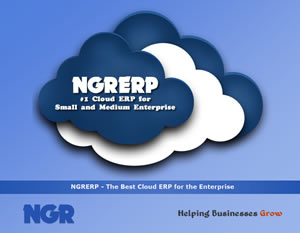 The Best Cloud ERP for the Enterprise
According to Gartner, cloud computing is the global CIO priority for 2013 and beyond. Enterprises are turning to cloud solutions at a rate four times greater than on-premise software. More than 40% of the cloud will be tapped by enterprises with 1,000-plus employees by 2014—transforming IT budgets, eliminating the costly upgrade treadmill, enabling the mobile workforce and reallocating IT resources from maintenance to innovation.
---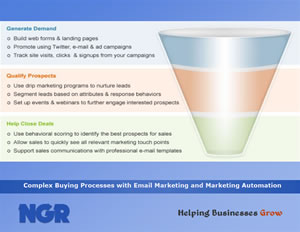 Plugging the gap between Lead Generation and Marketing Automation
Generating demand is what B2B marketers do. It's the art of educating buyers and nurturing these relationships from earliest awareness through to maximizing customer lifetime value. It's about sparking, nurturing and monetizing initial demand; it's also about sustaining and growing that demand among current customers. It's a holistic activity that spans the buyer lifecycle.
---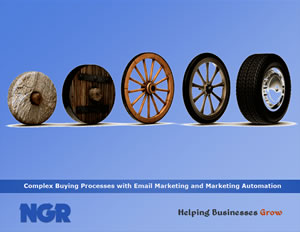 Complex Buying Processes with Email Marketing and Marketing Automation
We often hear the question: "How is Marketing Automation different from email marketing?". In this short paper, we'd like to shed some light on the differences, and explain when to use email marketing and when to use Marketing Automation.
---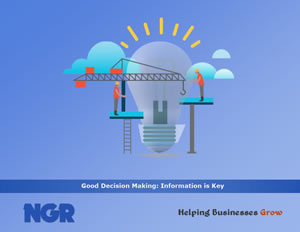 Good Decision Making: Information is Key
Life is full of decisions. What separates successful business owners is their ability to assess, predict, plan and execute. The less we leave to chance, the more successful we will be.
---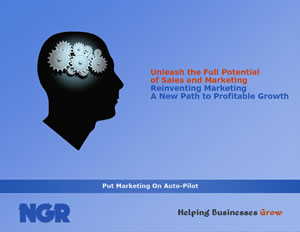 Put Your Marketing On Auto Pilot
You may question "How is Marketing Automation different from email marketing?".
Email marketing is one of the most powerful tools that a marketer can use. Marketing Automation systems take email marketing to the next level.
---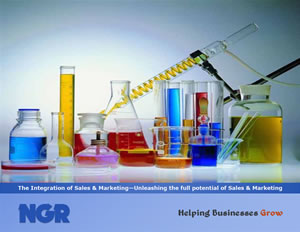 The Integration of Sales and Marketing
This white paper examines why the clash between pharmaceutical sales and marketing rages on, why it must end, and how this will unleash the full potential of the commercial organization.
---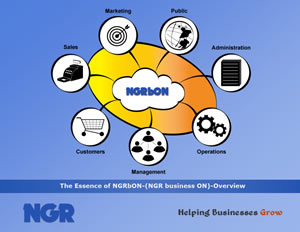 The Essence of NGRbON - An Overview
NGRbON is an integrated business management application designed from the ground up for small businesses like yours.
---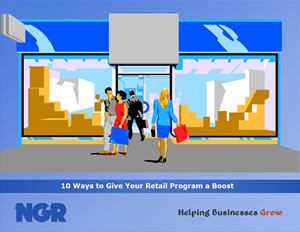 10 Ways to give your retail program a boost
Here are 10 ways you can stand out from the plethora of unwanted promotional messages piling up in in-boxes and instead communicate with customers through highly relevant messaging that will help increase revenue.
---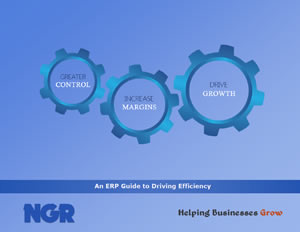 An ERP Guide to Driving Efficiency
Improving business efficiency is a personal concern for any company that hopes to achieve "best-in-class" operations. Businesses that successfully improve efficiency stand to reduce operating costs while improving the effectiveness and profitability of their operations. They also gain time to devote to strategic planning. While many companies employ siloed applications and manual business processes, best-in-class companies are more likely to fully exploit ERP technology.
---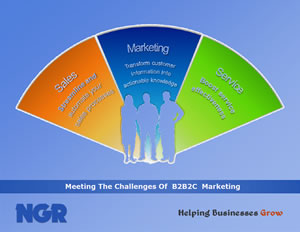 Meeting the challenges Of B2B2C marketing
B2B2C marketers distribute their products and services through intermediaries. They sell to another business that in turn resells to the consumer, and succeeding in that complex marketing environment requires some very special skills.
---
Scroll