Easily Manage Your Website Content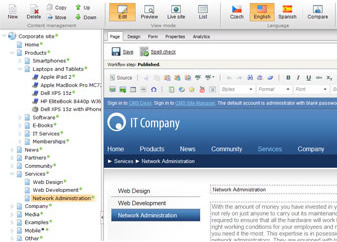 Editing your website with NGRPulse is as easy as writing a document in Microsoft Word. You will love the intuitive interface as well as advanced features, such as workflow or multilingual support.
Navigate - Edit - Save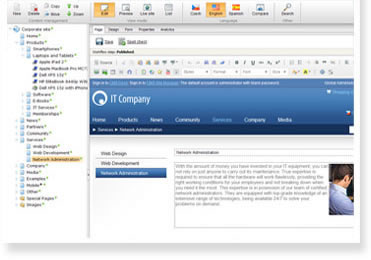 Updating your website with NGRPulse is really intuitive. All pages are organized in a tree hierarchy that reflects the site navigation, so you can easily find the page you want to edit, make the changes and click Save. It's that easy!
WYSIWYG Editor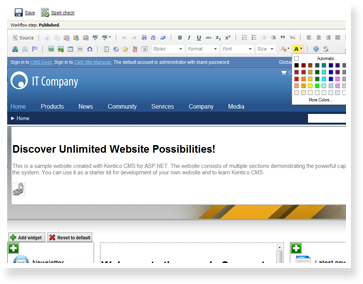 The built-in editor provides editors with all tools they need to create and update content:
Text formatting (bold, italics, color, font, headings, etc.)
Insert image
Insert movie
Insert YouTube video
Create link
Insert on-line form, poll or other dynamic object
Spell checker
and many others
Moreover, the administrator can customize the editor toolbar based on the user role.
Images and Media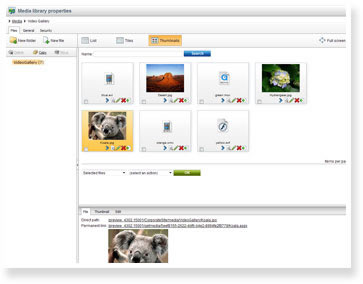 Inserting an image into the text is as easy as clicking a button, selecting the image and resizing the image as you need. You don't have to worry about image size, even if it comes directly from your camera, since NGRPulse will automatically resize it for the required dimensions. You can also upload and publish movies, music and YouTube video.
Widgets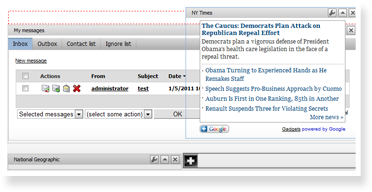 Widgets empower the content editors so that they can change not only the text and images, but also the layout of the page and add dynamic features, such as forms, newsletter subscription, banners, boxes with latest news, etc. It gives them more flexibility since the editors can make these changes by themselves without waiting for a developer.
Rank Higher with Search Engine Optimization (SEO)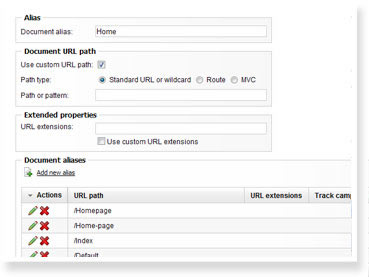 NGRPulse allows you to build websites that are highly optimized for search engines, such as Google, and rank higher in the results due to:
SEO friendly URLs and URL aliases
customizable page title, keyword and descriptions
Google Sitemap
customizable ALT and TITLE attributes
headings H1, H2, etc. supported in the editor
clean (X)HTML code and CSS-based menu
fast page load
Delegate Content Authoring without Losing Control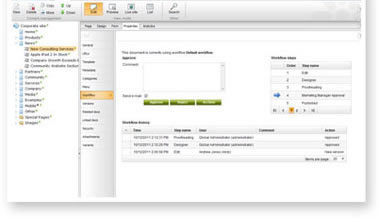 Web content is no longer created only in the marketing departments. With NGRPulse, you can delegate the content management to other people while keeping control over what's published. It allows you to define custom workflows for particular site sections and content types and grant users with permissions for chosen documents. All changes are tracked and you can easily figure out who modified the content. These features allow you to keep control over content quality and brand consistency.
Go Global with Multilingual Content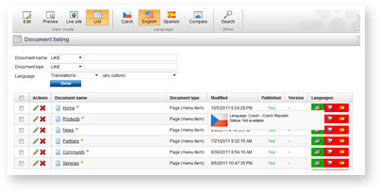 NGRPulse allows you to easily create websites in multiple languages. Chinese, Russian, Arabic, Hebrew and any other language are no issue due to the support for UNICODE encoding and right-to-left text. Also, NGRPulse is translated into many languages, so your colleagues in other countries can use it, too.
Maintain Brand Consistency with Page Templates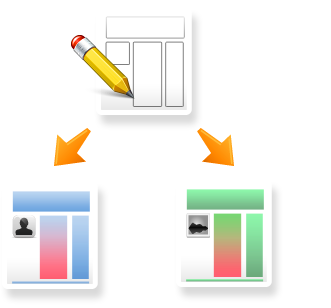 Every page in NGRPulse is based on some page template that defines the layout of the page. Then, the editors just enter the content into defined editable regions. It means the content administrators cannot break the page design. You can even decide what formatting features will be available for the editors so that they cannot for example change the font type or color.
Structured Content and Content Re-Use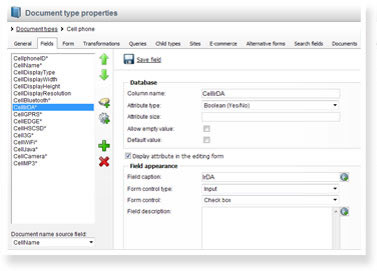 If you need to publish structured documents with certain fields, such as news, press releases or product specifications, you can use custom document types. They give you full control over fields and their types and allow you to easily re-use the content across the website and display it using various transformations.
Manage All Your Websites from a Single Point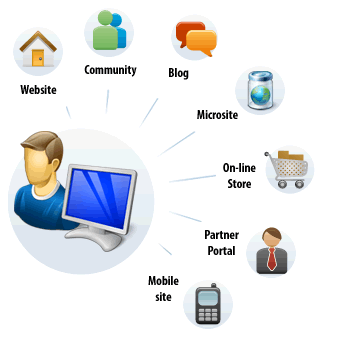 With NGRPulse, you can manage all your websites from a single point. Whether you need a corporate site, on-line store, microsite or on-line community, you can quickly launch new sites, maintain brand consistency and share content across sites.
With NGRPulse powerful multi-site management, you can manage all your sites from a single place and deploy new sites in the matter of hours.
Content Scheduling
Want to publish a press release just on Tuesday morning at 8:00am? No problem - just set the "Publish from" field. Want to replace a special offer from your website with a standard content just at midnight without sitting at your computer? No problem - just set the "Publish to" field. NGRPulse will take care of it.
Metadata and Taxonomies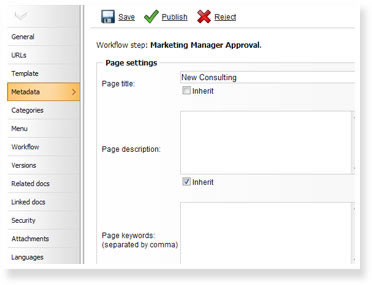 NGRPulse also offers a rich system for organizing and describing your content:
metadata including title, description and keywords
categories
tagging
related documents
and many more
Beside these, you can use the standard content tree hierarchy to organize your content in the way it's displayed on the website or grouped to additional categories.
Scroll